Warehouse inventory – "Inexpensively and efficiently collect dims and weight of +100,000 SKUs"
How do you quickly collect dimensions and weight of 100,000 SKUs in stock and do it cost-efficiently in a short matter of time?  
 This is the question that most companies are facing since the new dimensional weight pricing (2015) has been applied on parcels.
American Sportswear faced the same challenge and decided to acquire the Parcelcube™ mobile dimensioning system with cart and batteries for their warehouse inventory operations. They integrated the software to their WMS (warehouse management) software.
"Parcelcube™ has been very helpful in our operation as we could inexpensively and efficiently collect dimensions and weight of more than 100,000 SKUs in our warehouse. As a result of this we´ve been able to improve picking and storage operations which have increased efficiency and  operating times in our warehouse, shipping and picking operations. The Parcelcube™ dimensioning system and software are simple to use and was easily integrated into our WMS (warehouse management system)." Absalon Villareal, Operations manager, American Sportswear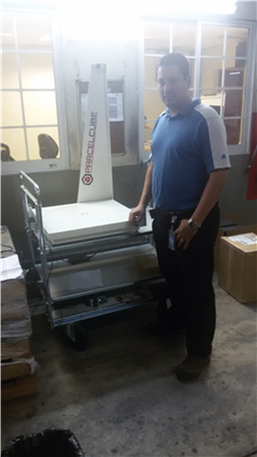 About American Sportswear Group
American Sportswear Group is the exclusive distributor of Tommy Hilfiger and Calvin Klein for Latin America. Since 1986, the company has successfully taken the diverse products under the Tommy Hilfiger brand to all countries in the region. As an industry leader, American Sportswear represents a range of products, including menswear, womenswear, children's clothing, and licensed products including footwear and accessories.